With the increasing popularity of cryptocurrency and blockchain technology, the energy needs of crypto mining will only go up. It is imperative that energy insiders understand how the cryptocurrency world intersects with the industry and what opportunities there are for capture.
But what are the transaction structures moving forward in today's energy markets, and how do infrastructure investors look at the business models and revenue capabilities of crypto mining companies?
Energy asset investors, developers, owners and operators must thoroughly understand both the business foundation and the creditworthiness of a crypto asset company in order to assess the upside potential and downside risks of cryptocurrency mining.
In this webinar, we will explore five main categories within the umbrella topic of crypto + energy:
Blockchain Basics
Risk Factors
Revenue Streams
Deal Structures
Regulatory Concerns
The webinar will close with a 15-minute audience Q&A session including all participants.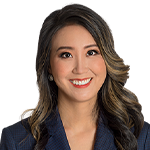 Moderator
April B. Kim
Shareholder
GREENBERG TRAURIG, LLP
Panelist
Koenraad (Koen) Driessens
Director
DENHAM CAPITAL MANAGEMENT
Panelist
John Belizaire
CEO
SOLUNA COMPUTING
Panelist
Brad Richter
VP, Energy Origination
US BITCOIN CORP